Archive for July, 2010
We instinctively know that our society affords the benefit of the doubt to the best looking among us. Newsweek just ran an article to help us quantify exactly how much.
In her recent article, "The Beauty Advantage," columnist Jessica Bennett cites the following facts:
Handsome men earn, on average, five percent more than do less attractive men (four percent more for women).
Over his career, an attractive man will make $250,000 more on average than a less attractive man (from economist Daniel Hamermesh).
Thirteen percent of women say they'd consider plastic surgery if it made them more competitive (American Society of Plastic Surgeons).
Sixty percent of overweight women and forty percent of overweight men say they've experienced employment discrimination.
Fifty-seven percent of surveyed hiring managers told Newsweek that qualified but less attractive candidates will have a harder time landing a job.
Sixty-one percent of managers (majority men) surveyed said that women gain an advantage by wearing work attire that shows their figure.
Ranked in order of importance, looks came in 3rd behind experience (1st), confidence (2nd), but ahead of the candidate's school (4th).
The article goes on to talk about "The Halo Effect," saying, "like a pack of untrained puppies, we are mesmerized by beauty, blindly ascribing intelligent traits to go along with it." I wouldn't stop at intelligence.  I'd add virtue, charisma, energy, wisdom, and sexual ability.
It is intellectually dubious to assume qualities like intelligence and virtue based solely on appearance, and it is morally dubious to grant jobs and benefits based on that assumption. And you know what? None. Of. That. Matters.
As I've written in earlier entries, society grants attention and benefit to those of high status. Status drives our attraction instincts.  This is a biological pack-animal imperative, hard-wired into the collective unconscious. And one attribute of the high-status pack animal is that they are physically attractive. We all unknowingly contribute to this silent social contract, even if it does not benefit us as much as others. We may judge it, or condemn it, or wish it away, but it is fact. Read more…
Pages
4th Time Selected! Thank You, WP!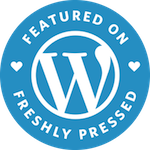 Blogroll