Archive for October, 2013
A majority of people generally say they want a happy life. A majority of people also say they want to become parents at some point. The trouble is, according to nearly every study ever performed on the matter, becoming a parent reduces happiness and marital satisfaction. So why do people become parents? Sociologists call this the "parenthood paradox."
The best answer so far comes from Roy Baumeister, a pioneering and prolific sociologist from Florida State University. His research suggests that people do not just pursue happiness. People have a separate instinct to pursue meaning – a sense of coherent life narrative that gives one a sense that they've significantly contributed to others' experience. What's more, people will tend to delay or defer happiness to make choices that bring meaning.
Now, thank God these two ideas are not mutually exclusive. As a matter of fact, they generally correlate. People who report having a meaningful life generally also report being happy, and vice versa. And certain characteristics, like stong social connections, positively influence both happiness and meaning. But it's important to note that there are important differences between these two concepts, with starkly different implications, and it is absolutely possible have one without the other. Not infrequently, people live at the extremes: having a happy, shallow life (hedonism) or a miserable but self-satisfactorily meaningful one (martyrdom).
In a recently published article in the Journal of Positive Psychology, Baumeister reveals the results of a large survey that detail the important psychological distinctions between happiness and meaning. Read more…
Pages
4th Time Selected! Thank You, WP!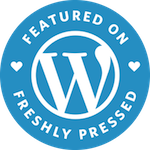 Blogroll