Archive for August, 2014
I've been writing the People-triggers blog since 2010.  After all that time, I'm not sure I'm any closer to understanding why we do what we do, and why we get out of bed in the morning.
Psychology feels like it's nipping around the edges of this question. Like the moment anyone gets close to an insight, they stop studying, write a book and start trying to teach everyone how to stay motivated and influence others. In the 70's, we were sure that Transactional Analysis was a scientific approach to relationships. In the 80's, we were sure that we needed to praise our children regardless of result because self-esteem correlates with success.
Think of what we're sure about today. Working from home achieves higher productivity. No wait, it kills collaboration. Group brainstorming produces better outcomes than individual reflection. No wait, it shouts down the introverts and encourages rule-by-volume.
In psychology, today's bestseller is tomorrow's bullshit.
That all being said, I've looked back at the readings and writings I've done over the past four plus years and I've found five discoveries-five core principles-that I'm willing to bet will stand the test of time. More than that, they changed my life because I was able to 1) become more effective in producing output, and 2) stop wasting energy worrying about certain things. So, here they are: Read more…
Pages
4th Time Selected! Thank You, WP!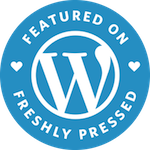 Blogroll