Archive for the 'Johnstone – Status Transactions' Category
Dr. Amy Cuddy is a social scientist at Harvard Business School and an expert on prejudice. Her most recent article (Co-authored with Dana R. Carney) focuses on the relationship between physical postures and hormone levels in the body. It's attracted enough attention to earn her a TED talk, which is how I first found her.
Since ancient times, we have taken for granted that body posturing reflects a person's mood at that moment. The West, and in particular the U.S., makes body language observance practically into a fetish. One needs look no further than the recent presidential debates to see pundits over-analyze and misconstrue every twitch and tick of the candidates.
Dr. Cuddy (She must get a lot of grief from fans of the show House) further points out that body language also predicts behavioral outcomes. She cites research in which experiment subjects who viewed 30-second (silent) videos of doctors speaking to their patients could accurately predict which doctors were more likely to be sued based on their non-verbal manner (demonstrating that doctors' behavior correlates more strongly with lawsuits than does their competence).
Now to the central question: we know that non-verbals can govern how we feel about, and behave toward, other people; do they also determine how we think and feel about ourselves? In other words, do our physicality and posture influence our mood as much as our mood influences our physicality and posture?
Dr. Cuddy designed an experiment in which subjects held a certain body pose for two minutes. They were not told about the nature of the poses, but half of the subjects posed in attitudes of "high power" (e.g. hands on hips, leaned back, arms extended upwards and wide, etc.) and the other half posed in attitudes of "low power" (e.g. contracted core, legs crossed at the knee, hands touching neck, etc.). They than ran a number of tests on these subjects including questionnaires, gambling tests, and saliva tests for endocrine levels.
She found that those who held the high-power poses for two minutes showed more poise and confidence immediately afterword, were more optimistic, and willing to take risks. Most striking, the two groups showed vastly different levels of certain hormones in the saliva tests. Those who held the high-power posers showed a 20% testosterone increase from baseline (low-power posers showed a 10% decrease). This explains the increased feelings of optimism and confidence. Also, high-power posers showed a 25% decrease in cortisol (low-power posers showed a 15% increase). Cortisol governs stress-reactivity – lower levels of the hormone tend to indicate better coping. It seems, amazingly enough, that physicality actually changes body chemistry. Read more…
Pages
4th Time Selected! Thank You, WP!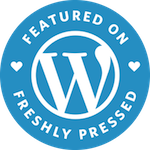 Blogroll